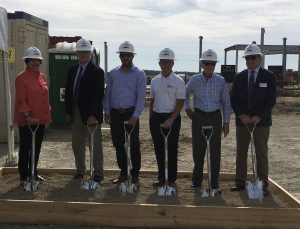 BROOKVILLE, IN – After two delays caused by bad weather in November 2021 and January 2022, Reid Health broke ground Friday morning to officially mark the start of construction on its new office building along State Route 101 north of Brookville.
Community leaders and representatives of both US senators from Indiana joined Reid Health officials and staff for the groundbreaking.
"This project represents exactly what the City of Brookville and Franklin County need, and continued investment from the companies that are here to provide better health care for our residents," said Brookville City Council Speaker, Curtis Ward.
John Palmer of the Franklin County Economic Development Commission said it's a good thing any time health care offerings are expanded locally.
"Better health care means more people decide to live here because it's close to what they need," Palmer said.
The Richmond-based hospital announced plans last September for the 20,000 square foot facility on 5.7 acres.
Groundbreaking ceremonies were originally scheduled for November but were postponed due to wet grounds.
The event was rescheduled for January but was again suspended due to freezing temperatures. Despite this setback, construction began on site around this time.
However, the third time turned out to be the charm.
Reid Vice President Jason Troutwine called the grand opening an exciting event for the hospital, Brookville and Franklin County.
"This expansion represents our commitment to this community and also an opportunity for us to provide access to ongoing wellness and health," Troutwine said. "It is really our desire through this project to be able to provide services close to home that people need and we are very happy to be here."
Reid Health's new primary and specialty care center will replace Reid's current office at 617 Main Street in downtown Brookville.
Hospital officials say the move will allow for an expansion of on-site services not previously possible, which will create more jobs as these services are added.
The new facility is expected to be completed in 2023.